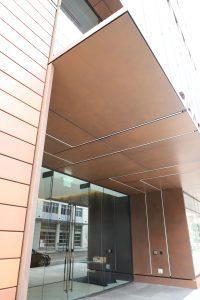 It's been a few years since Dura Industries developed the look of the finish and coated the corona panels on the National Museum of African American History and Culture but they'd been busy developing other artisan style painted finishes for curtain walls and facades. They have multiple versions of  painted Corten. The  range is from light to dark and with or without the pitted look. They recently painted 250 SW Taylor, a ten story office building, in downtown Portland Oregon designed by Ramin Rezvani of Ankrom Moisan Architects.
One of the benefits of a painted Corten became obvious during the riots in Portland when the building was tagged. Instead of trying to repaint or touch up the finish they were able to use a mild solvent to wipe off the tagging.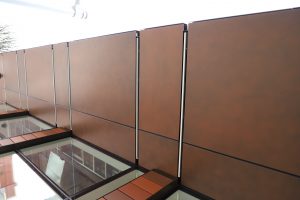 This is a PVDF liquid hand painted finish using Sherwin Williams Fluoropon and carries a 20 year finish warranty.
Dura Industries Corten was recently painted on the back of Montana's new highway signs and in the next few days will start painting on the North Point project in Boston.
For more information about a custom artisan look contact Del Stephens at 503-539-0006