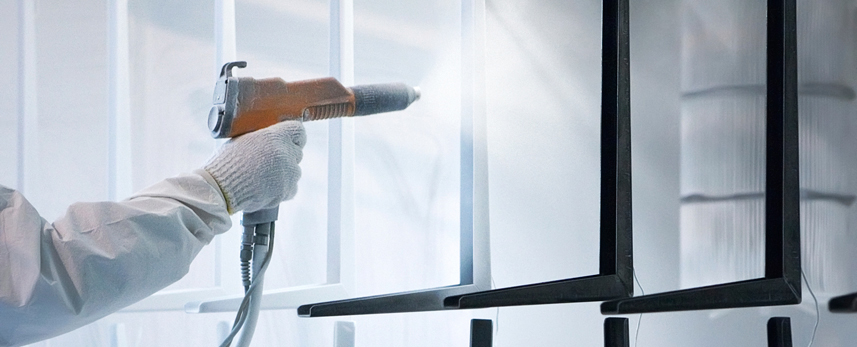 Paint Types offered by Dura Industries
Dura Industries presently offers a variety of architectural paints ranging from 70% Kynar 500® which meets AAMA 2605 specifications, 50% Kynar® meets AAMA 2604 and Baked Enamels which meet AAMA 2603. The AAMA 2605 is a high performance specification made for organic coatings for architectural and heavy commercial applications. The AAMA 2603 is the lower performing specification that is typically used for interior architectural, residential or very light commercial applications.
PVDF or 70% & 50% Kynar™ Coatings:
PVDF coatings are the most weather resistant of all finishes. These coatings are also called fluorocarbon, fluoropolymer, and trade names of Kynar 500™. Some of the characteristics these types of finishes exhibit are outstanding resistance to humidity, color change, chalk, gloss shift and chemical cleaning; these types of finishes meet or exceed all criteria of the AAMA 2605 specification.
Baked Enamel coatings:
Baked Enamels are generally a one-coat process as no primer is required. In this process the top-coat is applied directly to the material.
The characteristics or Baked Enamel coatings are different than that of PVFD coatings. Baked Coatings are used primarily for interior applications where color retention, chalk, fade and weatherability is not required. While these coatings are much harder and more resistant they do not have the weatherability of PVDF coatings. These coatings meet or exceed the specifications of AAMA 2603.
Dura Industries paints listed by supplier
AAMA 2605 – 70% Kynar 500
®
Valspar:
Fluropon – (2 coat, non-exotic)
Fluropon Classic II – (2coat Mica)
Fluropon Classic – (3 coat metallic requires clear coat)
Fluropon Premiere – (3coat, exotic requires clear coat)
Fluropon Special – (3 coat, exotic requires high film)
PPG:
Duranar – (2 coat, non-exotic)
Duranar XL – (3 coat, requires a clear coat, exotics, and metallics)
Duranar Sunstorm – (2 coat, mica)
Coraflon – (2 coat, 100% fluoropolymer)
AAMA 2604 – 50% Kynar
®
Valspar:
Acroflur
Acrodize – (mica)
Acrodize Hardcoat – (harder finish)
PPG:
Acrynar
AAMA 2603 – Baked Enamel
Valspar:
Re-finish
PPG:
Duracron
Cardinal:
6400 Series
Sherwin Williams:
Polane T & Polane B
In-house custom blending: Kynar 500
Dura Industries has the capabilities to in-house blend high performance 70% Kynar, intermediate 50% Kynar and Baked Enamel paints. Having in-house blending capabilities allows us to better meet our customer's needs in hours not days or weeks. With the use of a Hunter Lab Spectrophotometer we are able to provide the closest possible match on new colors along with being able to maintain color consistency from batch to batch and project to project. We are able to match almost any color sample provided that is a non-exotic or earth-tone. If we are unable to match within normal tolerances the sample will be sent to a paint supplier for a match. After the color match has been completed samples will be sent for approval.
Non in-house blendable or order out paints:
We have the ability to blend in-house non-exotic or earth tone colors along with some mica and metallic colors however; specialty paints must be ordered from the paint manufacturer. These paints would include PPG's Duranar™ Exotics, Sunstorms, and some metallic colors, Valspar's Fluropon™ Premieres, Specials, metallic and some of the mica products. Specialty paints all have an extended lead-time associated with them.
Pretreatment
Paint and powder coating systems are designed to be applied over clean metal that has been properly pretreated. All materials that come into the shop are counted and inspected before they go into the pretreatment system. Aluminum goes through a 7 stage Chromium Chromate conversion process meeting the rigid requirements necessary to meet coating specifications for PACCAR truck parts and Kynar 500® aluminum coatings for architecture which, in summary, consists of:
Stage 1 – High temperature alkaline wash
Stage 2 – Ambient rinse
Stage 3 – Deoxidizer acid etch
Stage 4 – Ambient rinse
Stage 5 – Chromium Chromate conversion coat
Stage 6 – Ambient rinse
Stage 7 – Ambient rinse & dry off
The pretreatment tanks are checked daily and maintained regularly to assure that the solutions and temperatures are at optimum conditions.
In 2006 Dura Industries installed equipment to evaporate wastewater that, for many years, was being discharged into the local sewage system. Today all waste water is evaporated and the volume of water usage has dropped to less than 1/4 of previous usage. Hazardous waste that is hauled to designated landfills has also dropped by more than 60%.
Kynar® and Kynar 500® are registered trademarks belonging to Arkema Inc.